Arena Football League Closes Shop After 30-Plus Years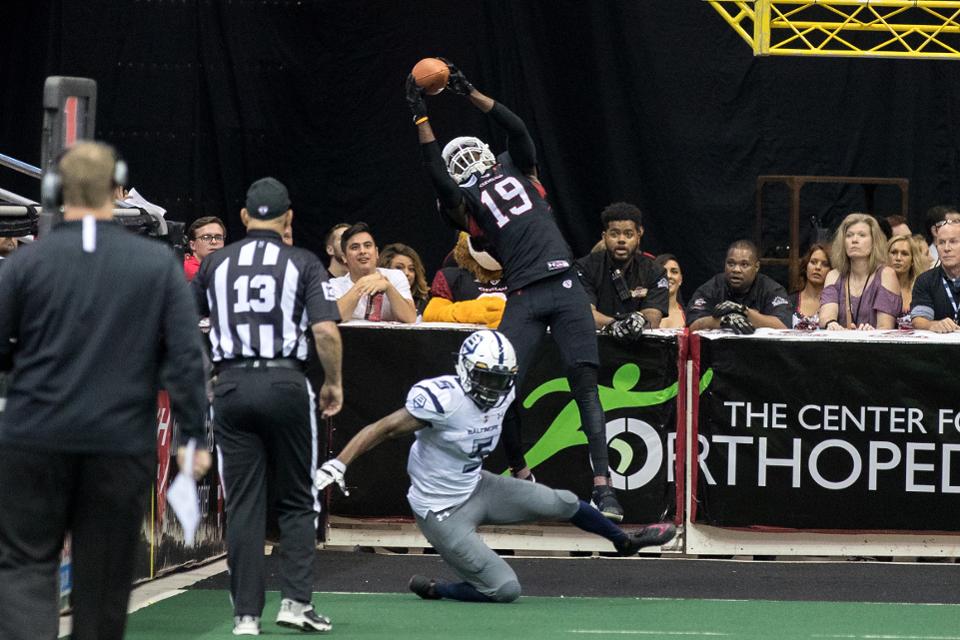 CLEVELAND, OH - JUNE 16: Cleveland Gladiators WR Michael Preston (19) makes a 9-yard touchdown catch over Baltimore Brigade DB Qumain Black (5) during the second quarter of the Arena League Football game between the Baltimore Brigade and Cleveland Gladiators on June 16, 2017, at Quicken Loans Arena in Cleveland, OH. Cleveland defeated Baltimore 59-48. (Photo by Frank Jansky/Icon Sportswire via Getty Images)ICON SPORTSWIRE VIA GETTY IMAGES
By: Gary Phillips
November 30, 2019
The Arena Football League is no more.
After more than three decades, the league is ceasing operations. It filed for Chapter 7 bankruptcy on Wednesday after suspending local business operations in October.
"We're all disappointed that we couldn't find a way forward and we wanted to thank our fans, our players, coaches, everyone who loved the Arena Football League," AFL commissioner Randall Boe said in a statement. "We all love the game and tried very hard to make it successful, but we simply weren't able to raise the capital necessary to grow the League, resolve the substantial legacy liabilities and make it financially viable.".
Thank you. pic.twitter.com/HMMqoePwxf

— Arena Football League (@OfficialAFL) November 28, 2019
It's never been smooth sailing for the AFL – bankruptcy cancelled the 2009 season – but the league had been able to endure since 1987. That's more than other NFL alternatives, like the XFL, USFL and AAF, can say. The XFL is making a comeback attempt in 2020.
The end seemed near for the AFL when only four teams participated in the 2018 season, but the league brought in two expansion teams last season. The additions didn't make enough of a difference, though, and so the league decided to re-evaluate its business model following this season. Rather than try to continue, the league decided it was time to shut down.
The AFL never got the attention that the NFL did, but a few notable players passed through the league over the years. Among them were Eddie Brown, Barry Wagner, George LaFrance, Jay Gruden, Aaron Garcia and Kurt Warner, who became a Hall of Fame quarterback in the NFL after spending time with the Iowa Barnstormers.