The Best Festivals & Fairs in Phoenix & Arizona
By: Paul Joseph, TravelMag
February 26, 2019
Known as "The Valley of the Sun" thanks to its year-round sunshine, the city of Phoenix plays host a huge number of festivals and fairs each year, many of which were inspired by some of the unique and distinctive aspects of Arizona culture. Consequently, such events serve not only as a chance for locals to celebrate their own heritage, but to provide a fascinating insight for visitors as well.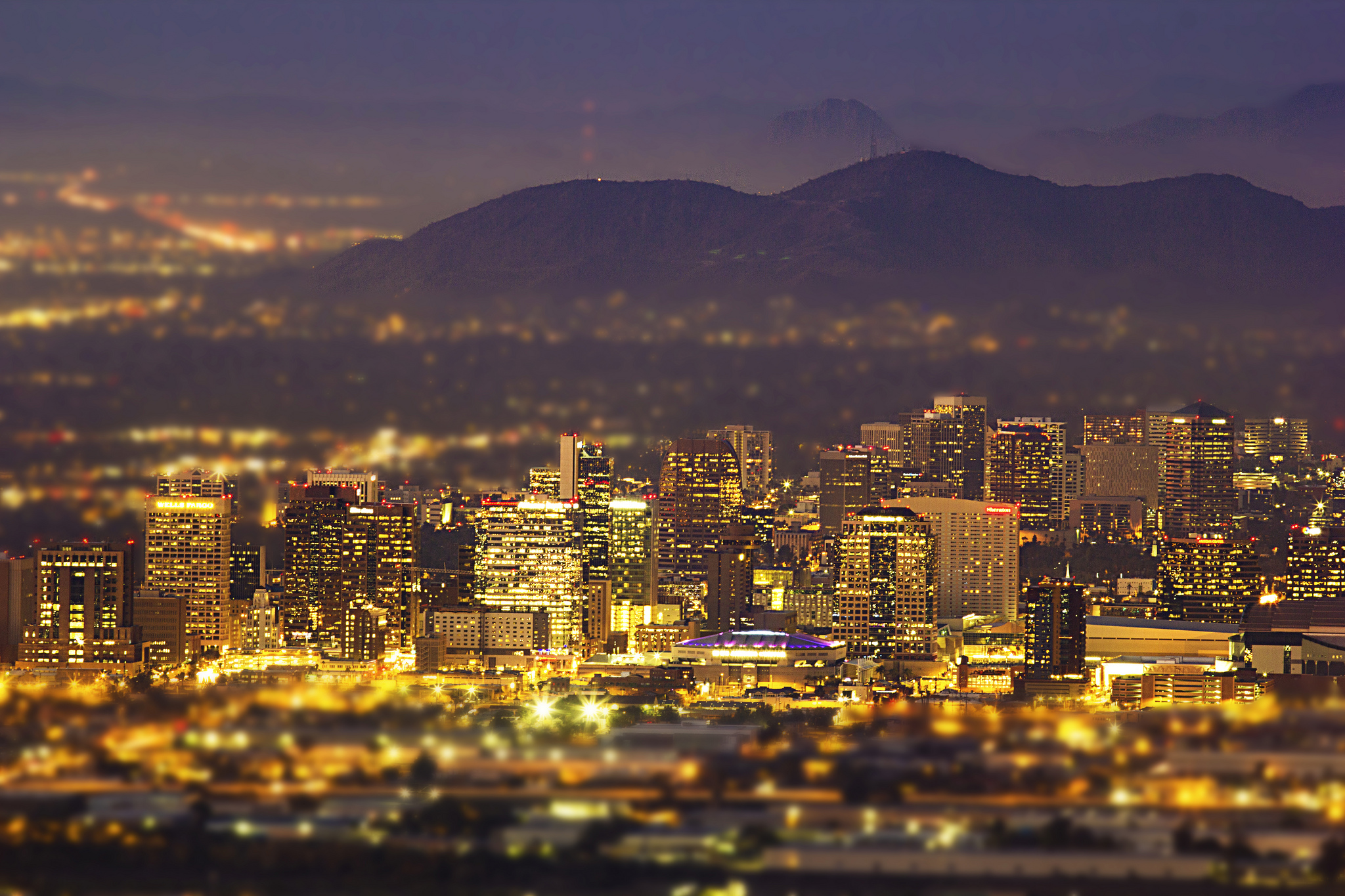 The bright lights of the city of Phoenix set against the striking backdrop of the Phoenix Mountains (Photo: Josh Critser via Flickr)
A highlight of any visit is immersing yourself in the area's rich arts and cultural scene, which has helped give rise to many of the festivals and fairs that are held here throughout the year. We've picked out the best due to take place across 2018. And if you're looking for events taking place in 2019 instead, you should check on the respective websites towards the end of this year, when official dates are likely to start being confirmed.
Arizona Balloon Classic
About 40 balloon teams participate in this annual event which attracts thousands of spectators, all drawn by the visual drama of Arizona's West Valley skies dotted with hot air balloons. Held over three days, the festival features early evening balloon glows, morning balloon launches and landings, and a fun-packed ballooning race too. There's also music, food, a family fun zone and fireworks to add to the spectacle.
LOCATION: Goodyear Ballpark, Goodyear, AZ
MONTH: January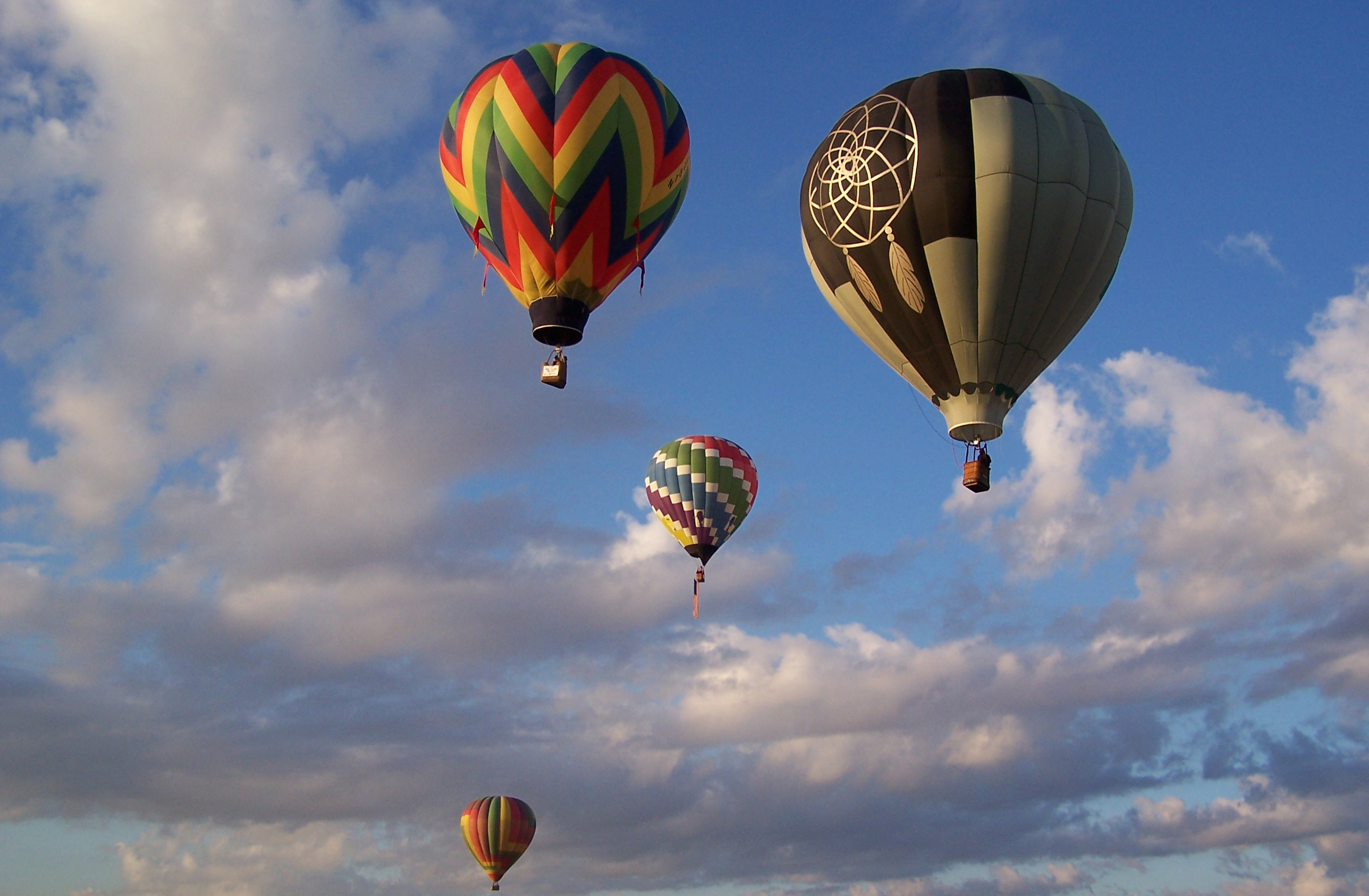 Hot air balloons traverse the sky during the Arizona Balloon Classic (Photo: Arizona Shona via Flickr)
Breaking Ground Festival
Now in its 11th year, Breaking Ground offers an exhilarating weekend of performances, master classes and social events featuring some of the most respected voices in modern contemporary dance, including performers, choreographers and digital artists. For 2018, the event will also play host to a dazzling after-party featuring the popular Tiny Dances in the lobby of the festival venue.
LOCATION: Tempe Center for the Arts, Tempe, AZ
MONTH: January
Carefree Fine Art & Wine Festival
More than 155 fine artisans from across America and beyond come together for this well-regarded annual festival. Artists display paintings in oil, watercolour, pastel, acrylic, and ink, and there's also an impressive assortment of sculptures, sparkling hand blown glass, clay, metal, stone, wood, bronze, handcrafted jewellery, photography and plenty more. The 'wine' aspect of the event comes in the shape of several domestic and imported wines available for tasting – the perfect accompaniment to the 5,000-plus pieces of original artwork on show.
LOCATION: 101 Easy Street, Carefree, AZ
MONTH: January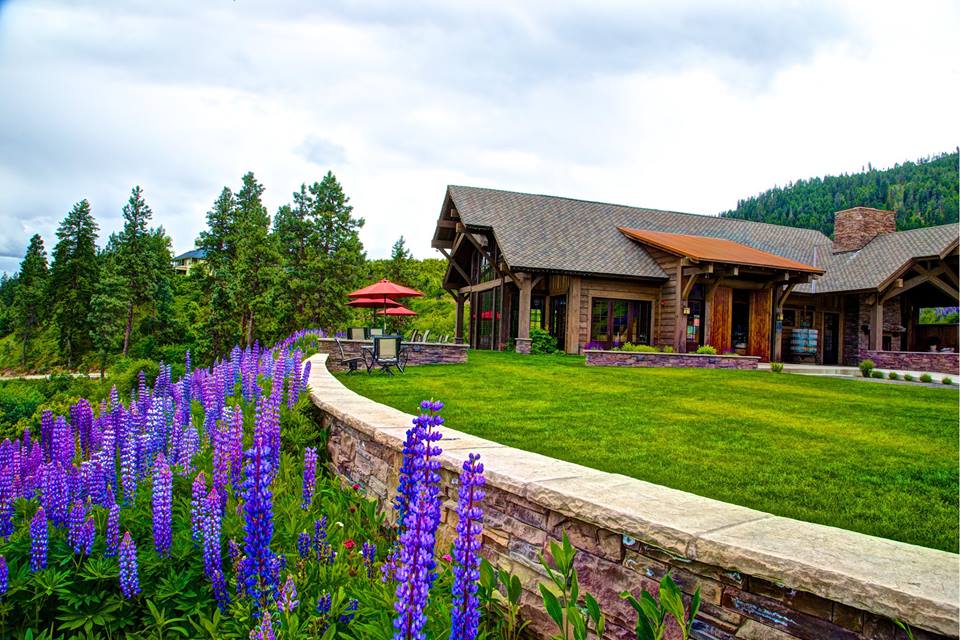 The pretty setting for the Carefree Fine Art & Wine Festival (Photo: Carefree Fine Art & Wine Festival)
Quilt, Craft, and Sewing Festival
A popular event with hobbyists and enthusiasts of art and needle work, this three-day festival presents a wide array of quality sewing, quilting, needle-art and craft supplies from the industry's top companies. As well as the myriad of products on display, the festival offers visitors the chance to take part in free "Make and Take" workshops where you can learn the fundamental skills of the trade and even get to take home the fruits of your labour as a souvenir. There are also live demos, talks and more.
LOCATION: Arizona State Fairgrounds, Phoenix, AZ
MONTH: January
Tacolandia
This annual taco festival welcomes devotees of the traditional Mexican tortilla for a day dedicated to the humble – but delectable – delicacy. There's unlimited samples from 30 of the region's top taquerias along with live entertainment in the shape of mariachi groups and folklorico dancers, cash bars selling cocktails and beer, and awards for the best tacos in various categories.
LOCATION: Margaret T. Hance Park, Phoenix, AZ
MONTH: January
Buckeye Air Fair
This family-friendly event celebrates the history and tradition of aviation, while offering visitors the chance to learn about the science of space and flight. As well as a wide array of aircraft related exhibits, the fair also puts on a range of activities including rides in biplanes, hot air balloons and helicopters, police and fire demonstrations, and a car show. There's also a special Kids Zone and a science and technology festival.
LOCATION: Buckeye Municipal Airport, Buckeye, AZ
MONTH: February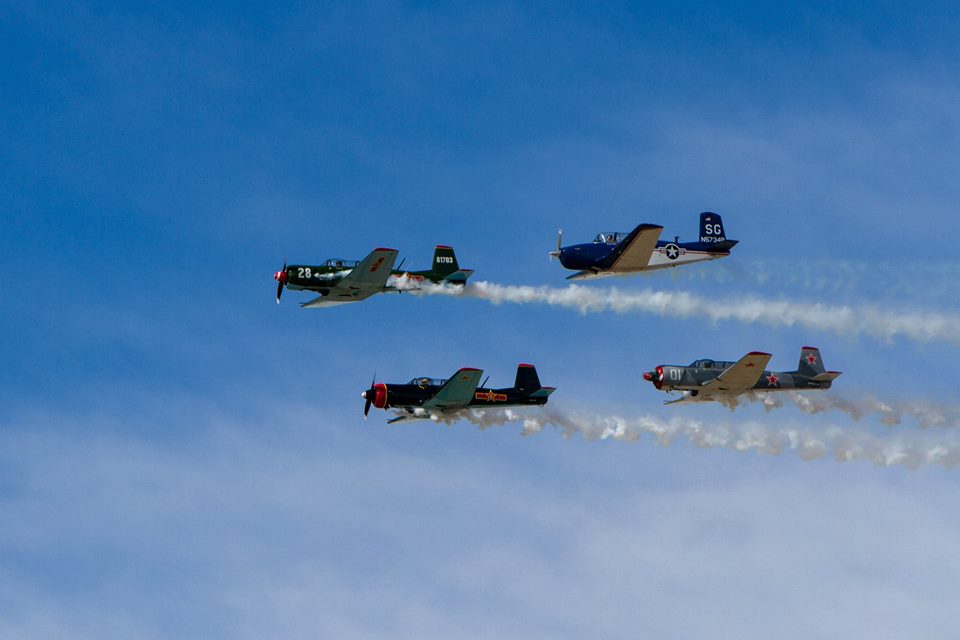 Classic aircrafts perform a choreographed routine at Buckeye Air Fair (Photo: Buckeye Air Fair)
Street Eats Food Truck Festival
Over 60 food trucks participate in this well attended foodie festival every year, all serving up mouth-watering dishes ranging from Philly steak sandwiches through to gourmet cuisine. There are also food eating competitions, cooking demos by local and nationally recognised chefs, musical entertainment on multiple stages, a farmers market, arts and crafts stalls, and a Kids' Zone.
LOCATION: Salt River Fields at Talking Stick, Scottsdale, AZ
MONTH: February
Arizona Beer Week
For 10 days in February, the state of Arizona will see dozens of its finest breweries, bars and restaurants, along with vast numbers of industry experts and beer lovers, come together to celebrate the very best craft beer the region has to offer. Taking place at venues across Arizona, the programme of over 200 events will include food pairings, pub crawls, special giveaways and meet-the-brewer nights.
LOCATION: Venues across Arizona
MONTH: February
World Championship Hoop Dance Competition
Now in its 28th year, this unique two-day event, which celebrates the long-standing artistry, athleticism and significance of American Indian Hoop Dance, will see men and women from across the US and Canada compete for cash prizes and – most importantly of all – the coveted title of World Champion Hoop Dancer. Watched by thousands of enthusiastic spectators (and over one million online viewers), along with a panel of keen-eyed judges, performers are assessed on their precision, timing/rhythm, showmanship, creativity and speed.
LOCATION: Heard Museum Libby Ampitheatre, Phoenix, AZ
MONTH: February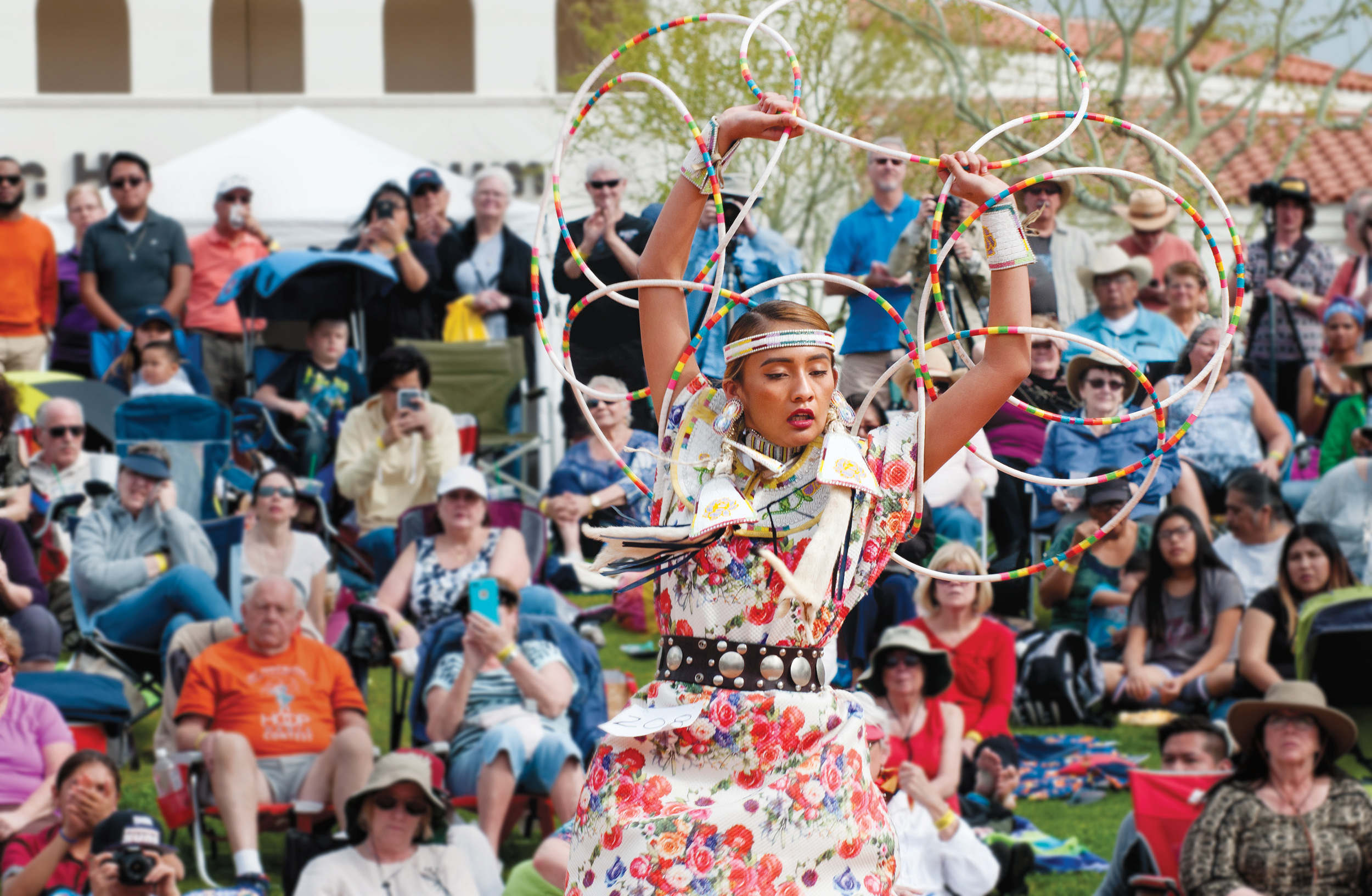 A dazzling performance at the World Championship Hoop Dance Contest (Photo: World Championship Hoop Dance Contest)
Lost Dutchman Days
There is little more quintessentially American than a Rodeo, and this hugely popular annual carnival features the very best that the fun-filled, high-octane horse and livestock-riding sport has to offer, attracting some 30,000 spectators each year. Held over three days, it stages over 30 rides, along with a huge array of free, top quality entertainment including a rodeo dance, live music, arts & crafts, family friendly activities, food and vendor booths, a bratwurst party, and a colourful parade.
LOCATION: Rodeo Park, Apache Junction, AZ
MONTH: February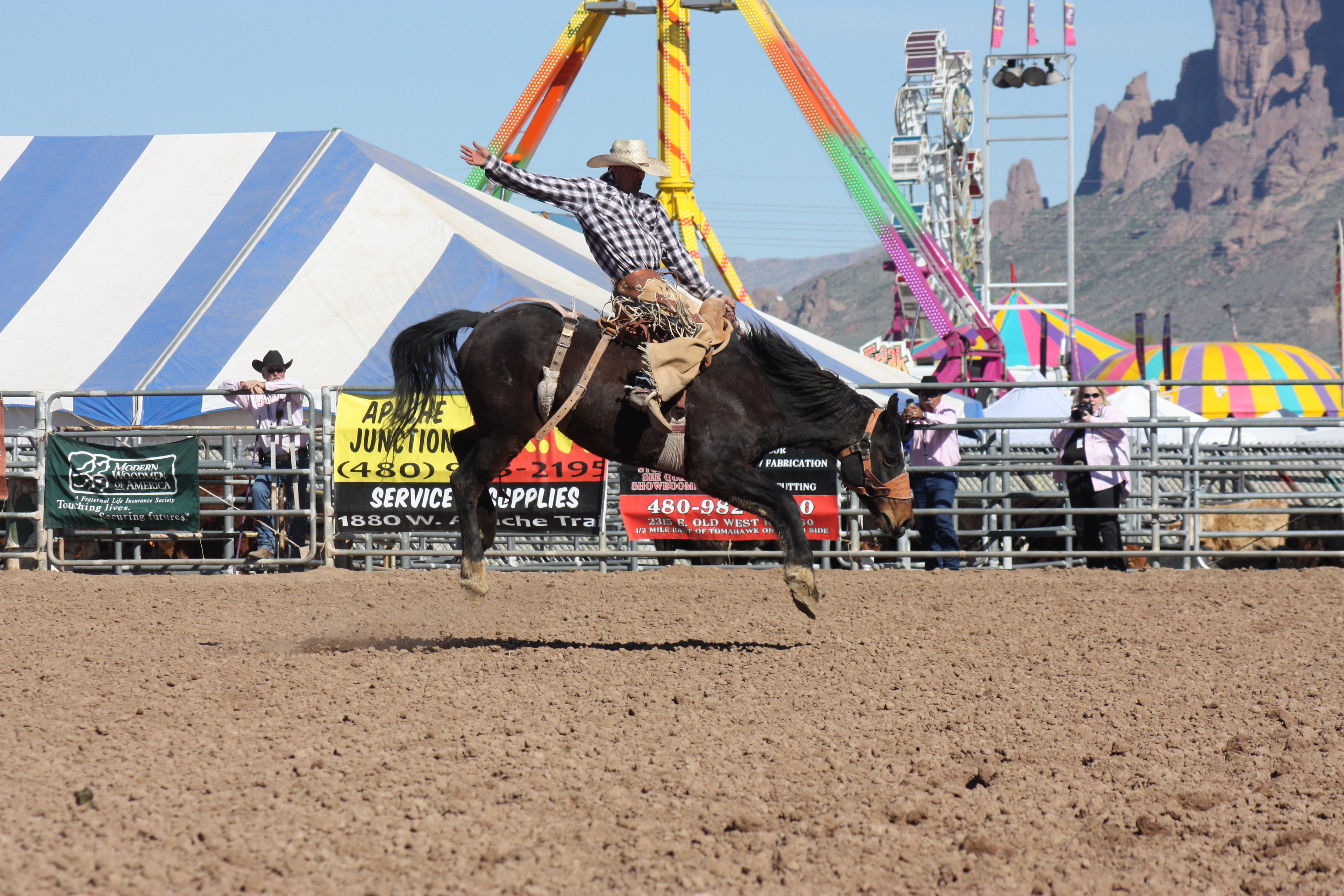 A rider attempts to keep his balance atop a horse at Lost Dutchman Days rodeo (Photo: Krysta Paffrath)
Roots N' Boots Queen Creek
Saddle up for the full Roots N' Boots Pro Rodeo experience, four days of ranching action for the whole family to enjoy. The event celebrates the best of the local agricultural community, complete with funfair, carnival and food stalls, not forgetting the stars of the show, the livestock. Sign up to compete in events, such as bull riding, steer wrestling and barrel racing, to bring out your inner cowboy. Younger visitors can meet a range of animals, enjoy gentle pony rides around the site and cheer on the bareback riders.
LOCATION: Horseshoe Park & Equestrian Centre, Queen Creek, AZ
MONTH: March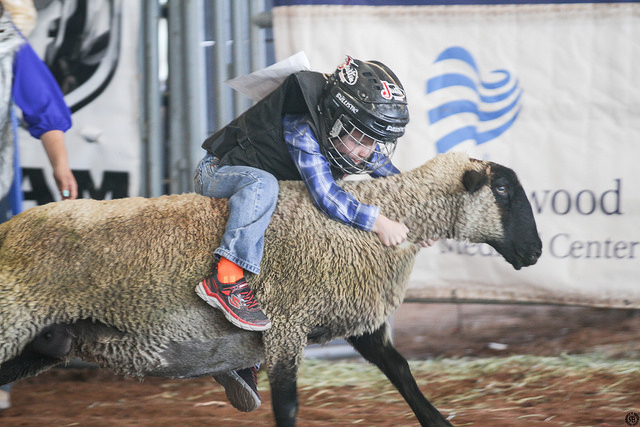 A courageous child clings on to a lamb during a previous edition of Roots N' Boots Queen Creek (Photo: Roots N' Boots Queen Creek)

Pot of Gold Music Festival

Start your St Patrick's Day weekend with a bang at this two-day musical extravaganza, packed with top performances. Food vendors will be on hand selling all the stomach fuel you'll need between sets (think fried alligator, corn dogs, chicken and waffles). However, a word of caution: it's Arizona and it's hot. Keep your water bottle handy and fill it up for free at the water station.

LOCATION: Rawhide Western Town and Event Center, Chandler, AZ

MONTH: March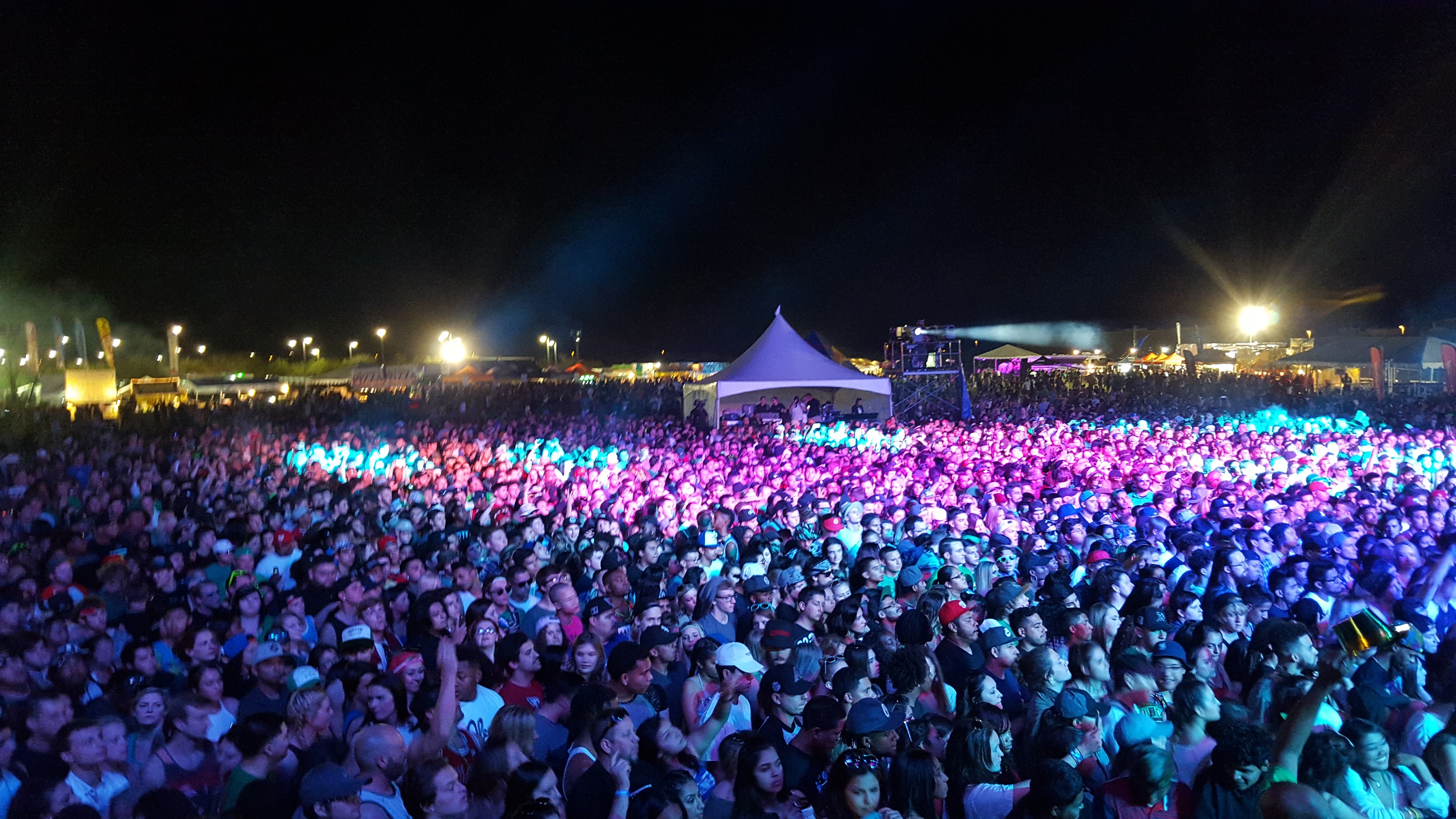 A spotlight shines on revelers at the Pot of Gold Music Festival (Photo: Pot of Gold Music Festival)

Fountain Hills Fine Art & Wine Affaire

The Fountain Hills Fine Art & Wine Affaire rolls around again this March, offering three heady days of art appreciation and wine tasting. Browse featured artist Randy Polk's 'wearable art' jewellery creations, as well as paintings, photography, sculpture and other crafts. You can access this arty event for just three bucks, or pay a further ten to claim your very own engraved wine glass and six tasting tickets for the various wines and rums on display. Topped off with a range of food and live music, this event is an essential stop-off for those who like the finer things in life.

LOCATION: Avenue of the Fountains, Fountain Hills, AZ

MONTH: March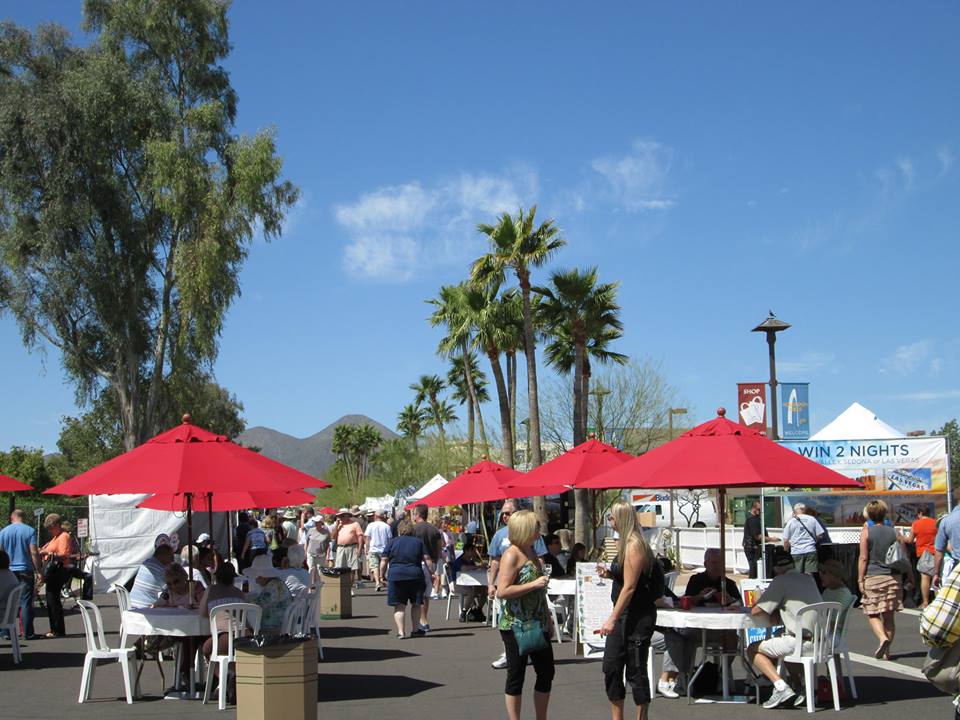 Visitors walk among stalls at the Fountain Hills Fine Art & Wine Affaire (Photo: Fountain Hills Fine Art & Wine Affaire)

Italian Festival of Arizona

Do you harbour a love of all things Italian? Look no further than the Italian Festival of Arizona, a two-day celebration bringing a taste of Italian culture to Scottsdale. Expect traditional live music, a range of arts and crafts, wine tasting and all the tempting Italian dishes and flavours you could wish for. Part of the event's proceeds will be donated to St Vincent de Paul, supporting those in need in the surrounding area. A great family event celebrating the diversity of the local community.

LOCATION: Civic Center Mall, Scottsdale, AZ

MONTH: March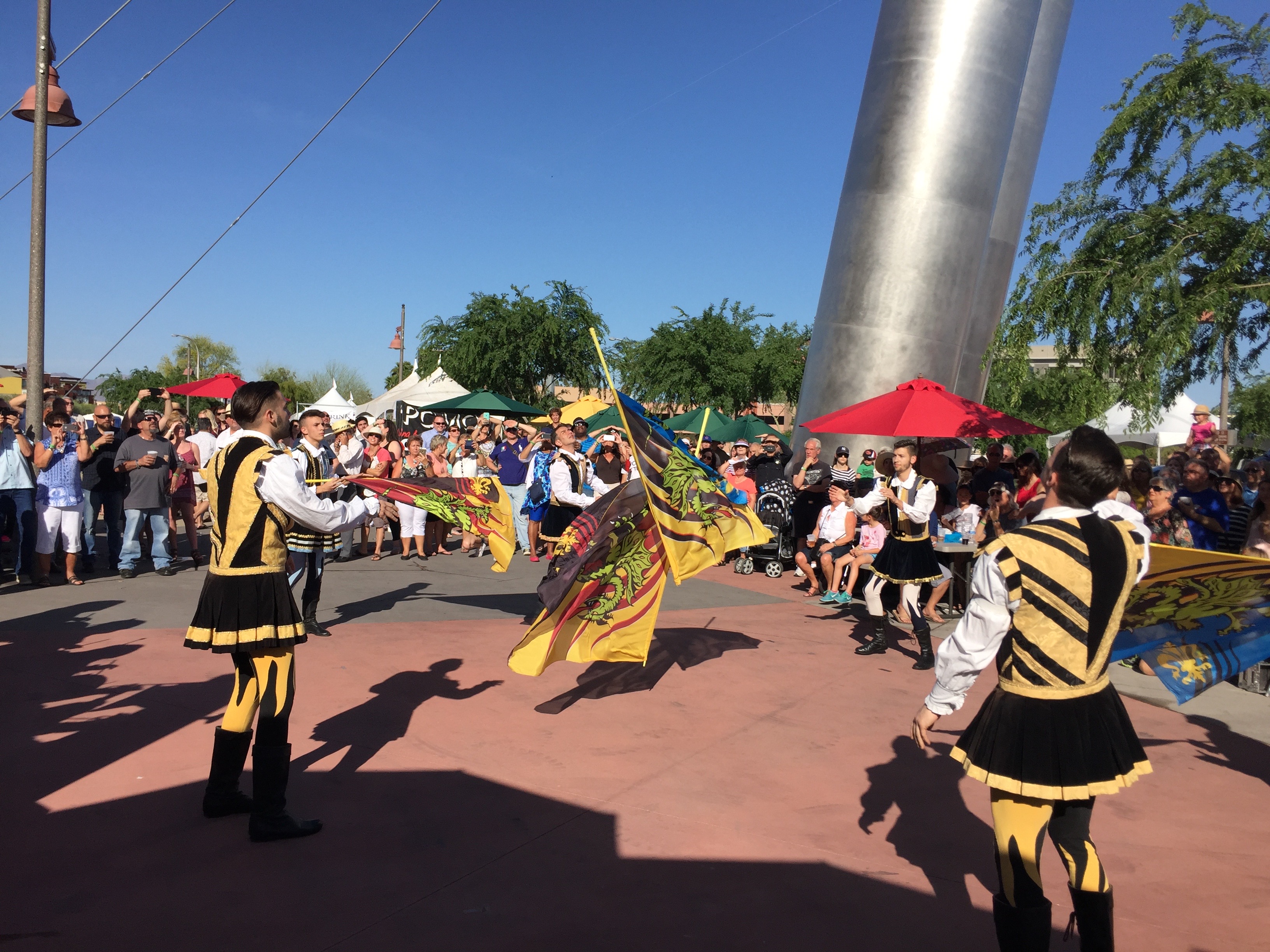 A public performance at the Italian Festival of Arizona (Photo: Italian Festival of Arizona)

The Great American BBQ & Beer Festival

The Great American Barbeque & Beer Festival is back and bigger than ever. If you're a barbeque nut with a passion for country music, you're in the right place. An array of BBQ pitmasters will be cooking up the tastiest brisket, pulled pork, chicken and ribs, ready to be washed down with SanTan craft beer. Have a go at mechanical bull riding, browse the farmers' market and play jumbo lawn games.

LOCATION: Dr. AJ Chandler Park, Downtown Chandler, AZ

MONTH: March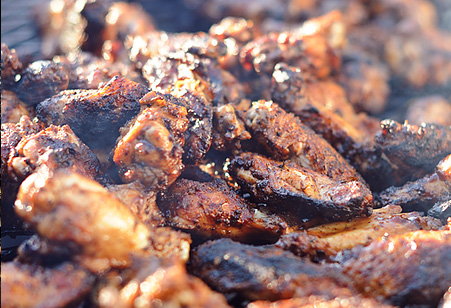 Mouth-watering food on offer at The Great American BBQ & Beer Festival (Photo: The Great American BBQ & Beer Festival)

Cyclomesa Bicycle Festival

A joyful day out for anyone who's crazy about their bike. The CycloMesa Bicycle Festival will be hosting displays and activities for all ages to enjoy. There's a Kids' Zone for younger patrons to explore, complete with circus performers and carnival games, plus an educational bicycle rodeo teaching children how to stay safe on two wheels. Witness the heart-in-mouth BMX show, watch a brutal Roller Derby match or cheer on the riders on their 72-mile cycle route through Mesa.

LOCATION: Venues across Mesa, AZ

MONTH: April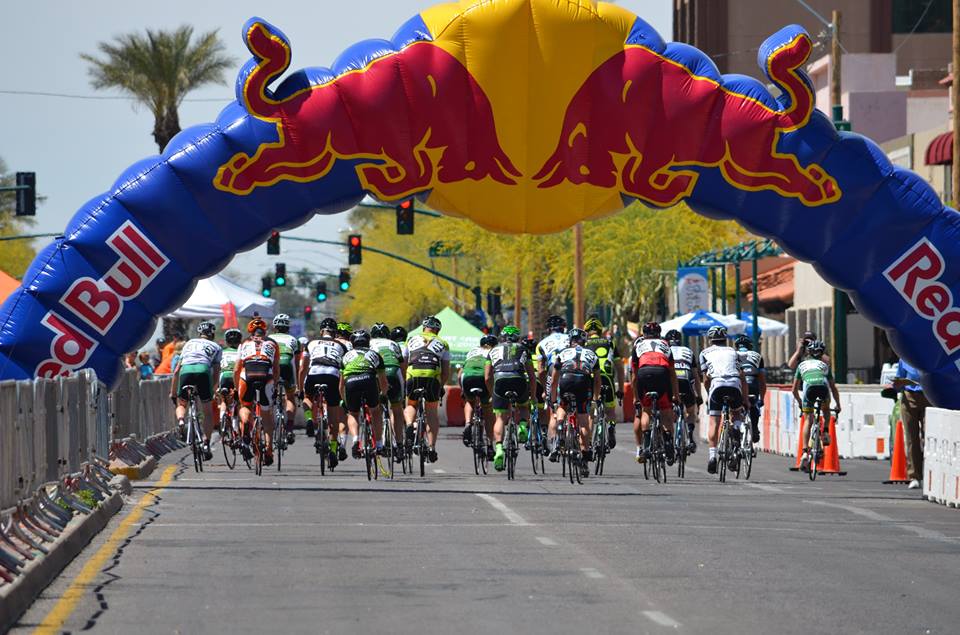 Cyclists jostle for position at the start of a race at Cyclomesa Bicycle Festival (Photo: Cyclomesa Bicycle Festival)

Phoenix Pride Festival

Take your place with over 35,000 attendees to celebrate the LGBTQ community at the Phoenix Pride Festival. It takes place over two days and raises vital funds for Phoenix Pride Community Programs. Swing by the Arts Expo to see all sorts of arts and crafts, including jewellery, photography and sculpture, before checking out the adults-only Erotic World. Don't miss the colourful Pride Parade on day two of the festival. Under-12s go free and can take advantage of the play area and creative children's activities.

LOCATION: Steele Indian School Park, Phoenix, AZ

MONTH: April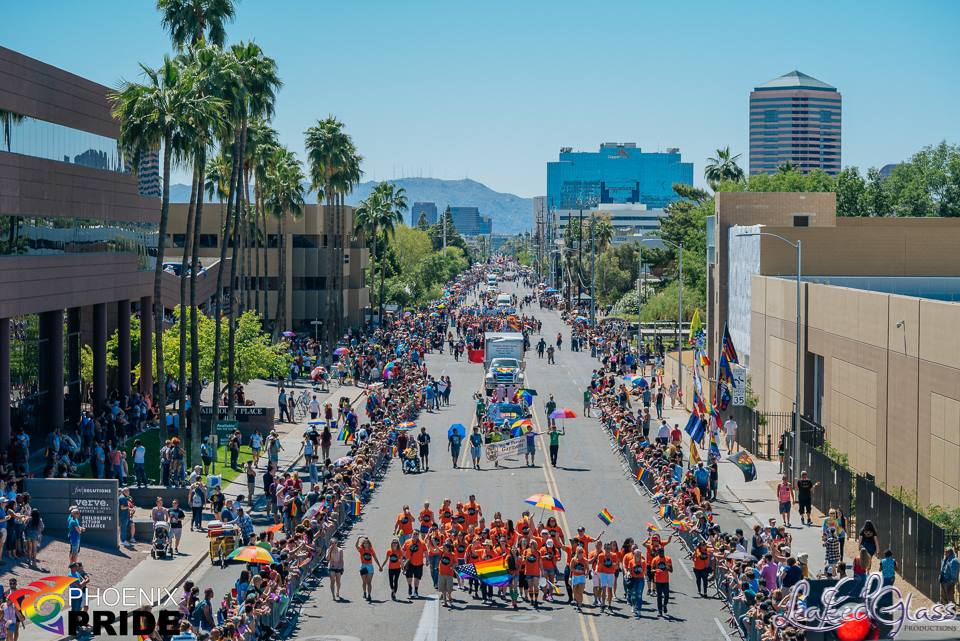 A street parade in full flow at Phoenix Pride (Photo: Mesa Arts & Crafts Festival)

Scottsdale Culinary Festival

Scottsdale becomes the epicentre of Arizona's foodie scene for two days in April when it plays host to its annual Culinary Festival. Some 40 local restaurants along with 30 craft breweries serve up a bevy of food and drink, while a teen cooking challenge, chef demos and wine and beer gardens also keep revellers entertained. Music plays a prominent role at the festival too, with 20 bands strutting their stuff across three stages.

LOCATION: Scottsdale Civic Plaza, Scottsdale, AZ

MONTH: April

Phoenix Improv Festival

Unpredictability is what makes improv so exciting to watch. If spontaneous, creative performances with a side order of raucous laughter are your thing, then the Phoenix Improv Festival is your hot ticket for the spring. Over three days of improvised comedy and drama, you'll be treated to an impressive roster of talent from all over the United States. The troupes are primed and ready to bring tears of mirth to your eyes.

LOCATION: Herberger Theater Center, Phoenix, AZ

MONTH: April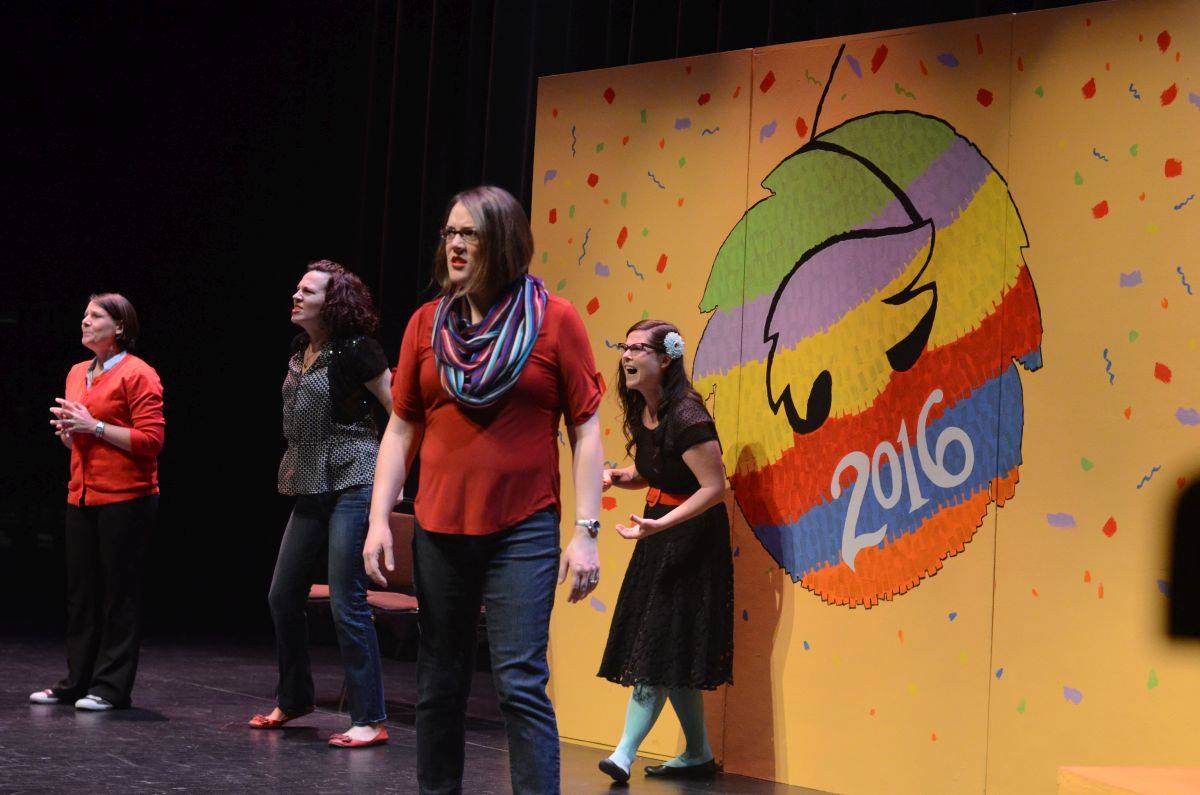 Ad-lib in action at the Phoenix Improv Festival (Photo: Cristobal Candelario)

Sprout Film Festival

Film fans, here's a date for your diaries. A one-day festival of short films with an exclusive focus on the challenges and triumphs experienced by people with intellectual and developmental disabilities. The festival is support by Sprout, a non-profit organisation based in New York. The event aims to promote inclusion and social change through innovative film-making, putting actors with disabilities firmly on the centre stage where ever-wider audiences can reach them. You can look forward to three film screenings throughout the day.

LOCATION: The Arc of Arizona, Phoenix, AZ

MONTH: April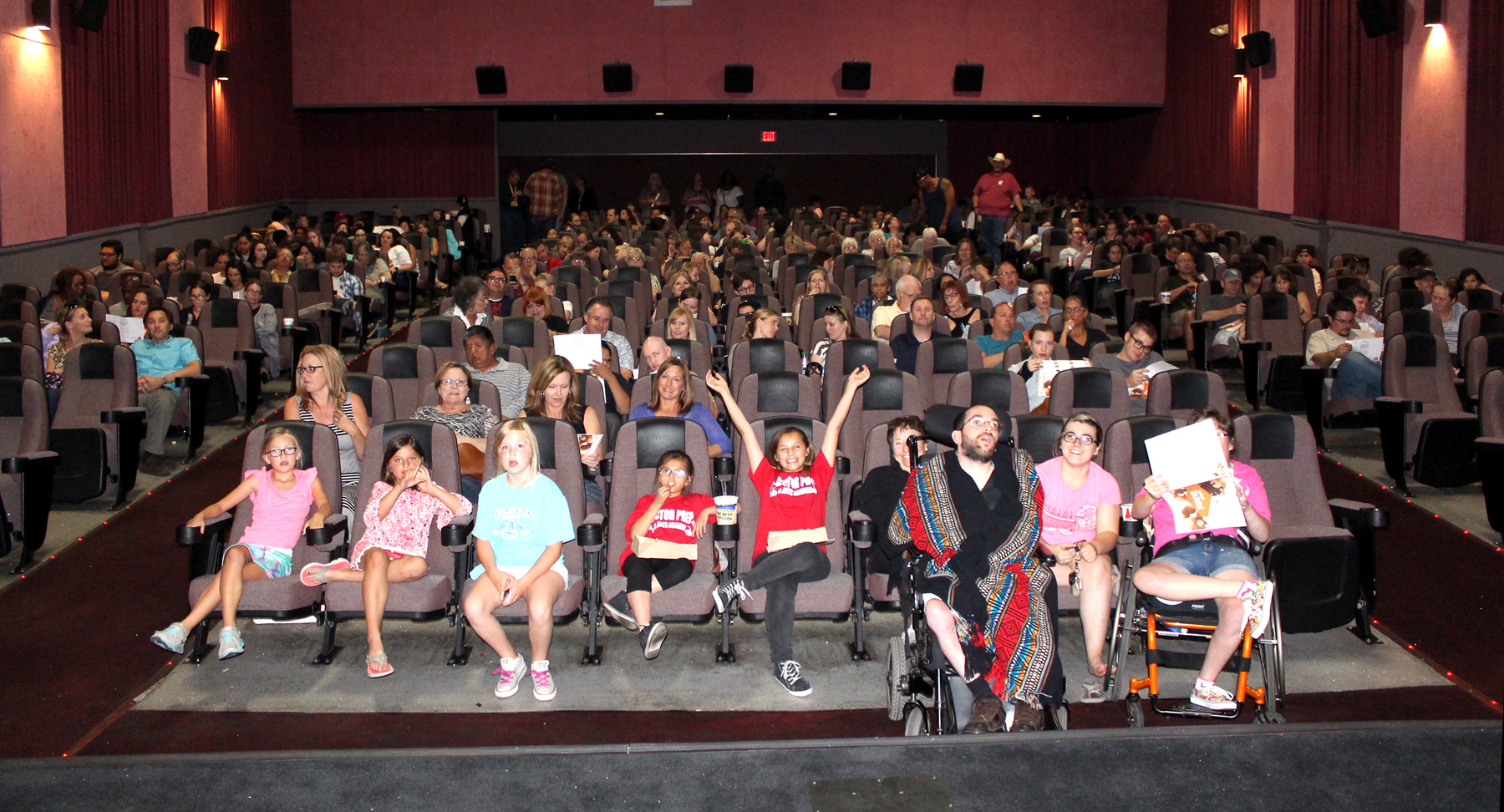 An audience shot from a previous edition of Sprout Film Festival (Photo: Sprout Film Festival)

Southwest Cajun Fest

Over 1,000 miles separates Arizona and Louisiana, but for one day only the two states come together for a celebration of all things Cajun. The event features a packed programme of cultural festivities and entertainment, but the number one draw is the mouth-watering cuisine. Fusing authentic Louisiana dishes with a dash of Arizona flavour, guests are invited to sample a rich assortment of regional dishes served up by a variety of food vendors. Meanwhile handcrafted beer, eating competitions and live jazz, blues and swing music add to the atmosphere.

LOCATION: Dr. AJ Chandler Park, Chandler, AZ

MONTH: April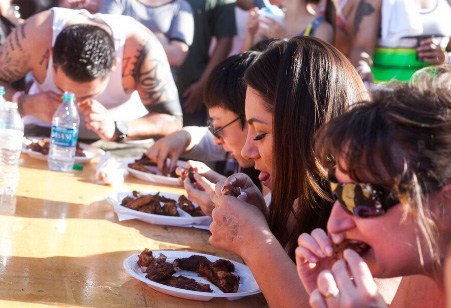 Festival-goers get stuck into some Cajun fare at the Southwest Cajun Fest (Photo: Southwest Cajun Fest)

Schnepf Farms Peach Festival

This fruity festival will take place over two sunny May weekends. Six juicy varieties of peach thrive on the farm here, bringing folks from all over Arizona to pick fruit straight from the orchard. Show the kids where peaches are cultivated then let them enjoy the hay rides, live music, train rides and carousels. Sample the famous Peachy Pancake breakfast or load up on fresh peach pie and cobbler. You can even pre-order your pies in advance. Pay a visit to the Peachy Sampling Pavilion, where $1 will get you six tasting tickets for delicious products like peach salsas and preserves.

LOCATION: Schnepf Farm, Queen Creek, AZ

MONTH: May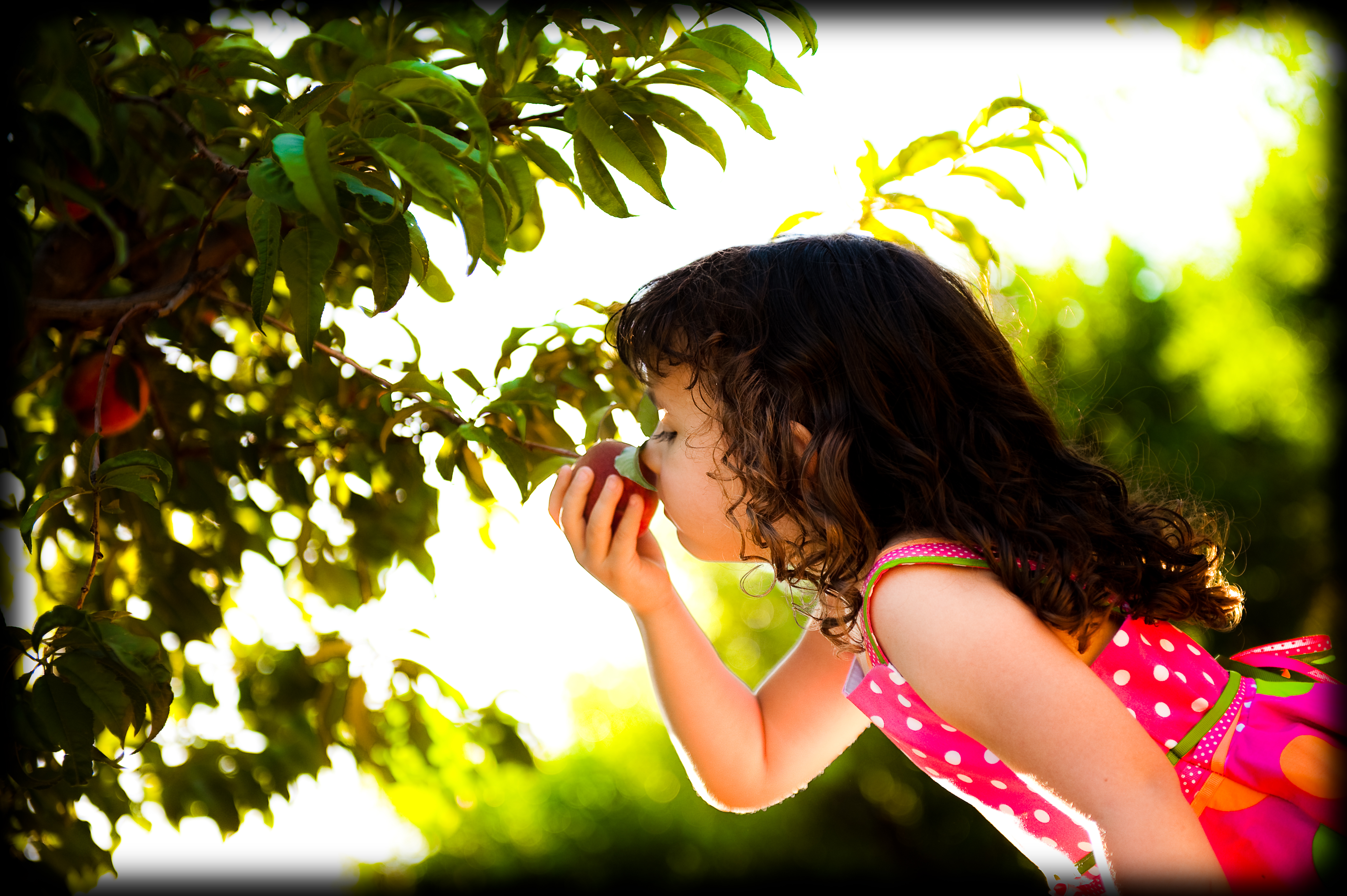 A young girl takes a sniff of a growing peach at Schnepf Farm (Photo: Schnepf Farms)

Phoenix Comicon

There's no need to wait for a fancy dress party invite to adorn yourself in the attire of your favourite comic book superhero – just grab yourself a ticket for Phoenix Comicon and you'll have the perfect excuse. Taking place over four days, the annual event has grown in size and stature since the inaugural edition, and now showcases not just comic books but also science fiction, fantasy and film/television, along with related popular arts such as horror, anime, manga, animation, toys, collectible card games, video games, webcomics and fantasy novels.

LOCATION: Phoenix Convention Center, Hayatt Regency, Phoenix, AZ

MONTH: May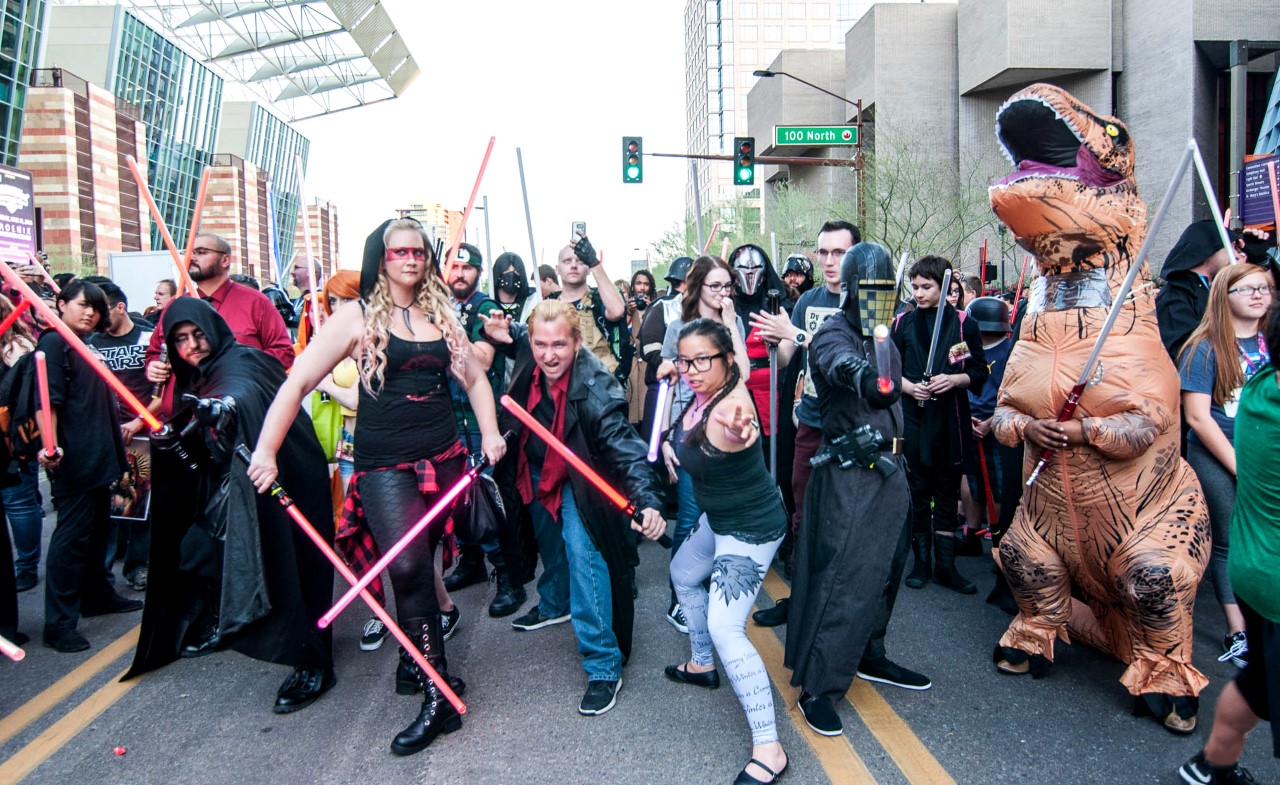 Visitors to the Phoenix Comicon immersed in fantasy role-play (Photo: KB Photography)

Carnival of Illusion

Seasoned veterans of Arizona's nightlife and entertainment spots are likely to have spent at least one evening enchanted by this unique, interactive theatre production that combines a traditional magic show with Vaudeville-style visual drama and humour. Held regularly throughout the year, the event is staged in front of an audience of under 100 guests, helping create an intimate experience for those in attendance. Mysterious visual effects accentuate stories of adventure from around the world, as told by the show's talented cast of performers.

LOCATION: Phoenix, Tempe, Mesa and Tucson

MONTH: Every weekend September–May; One weekend a month June-August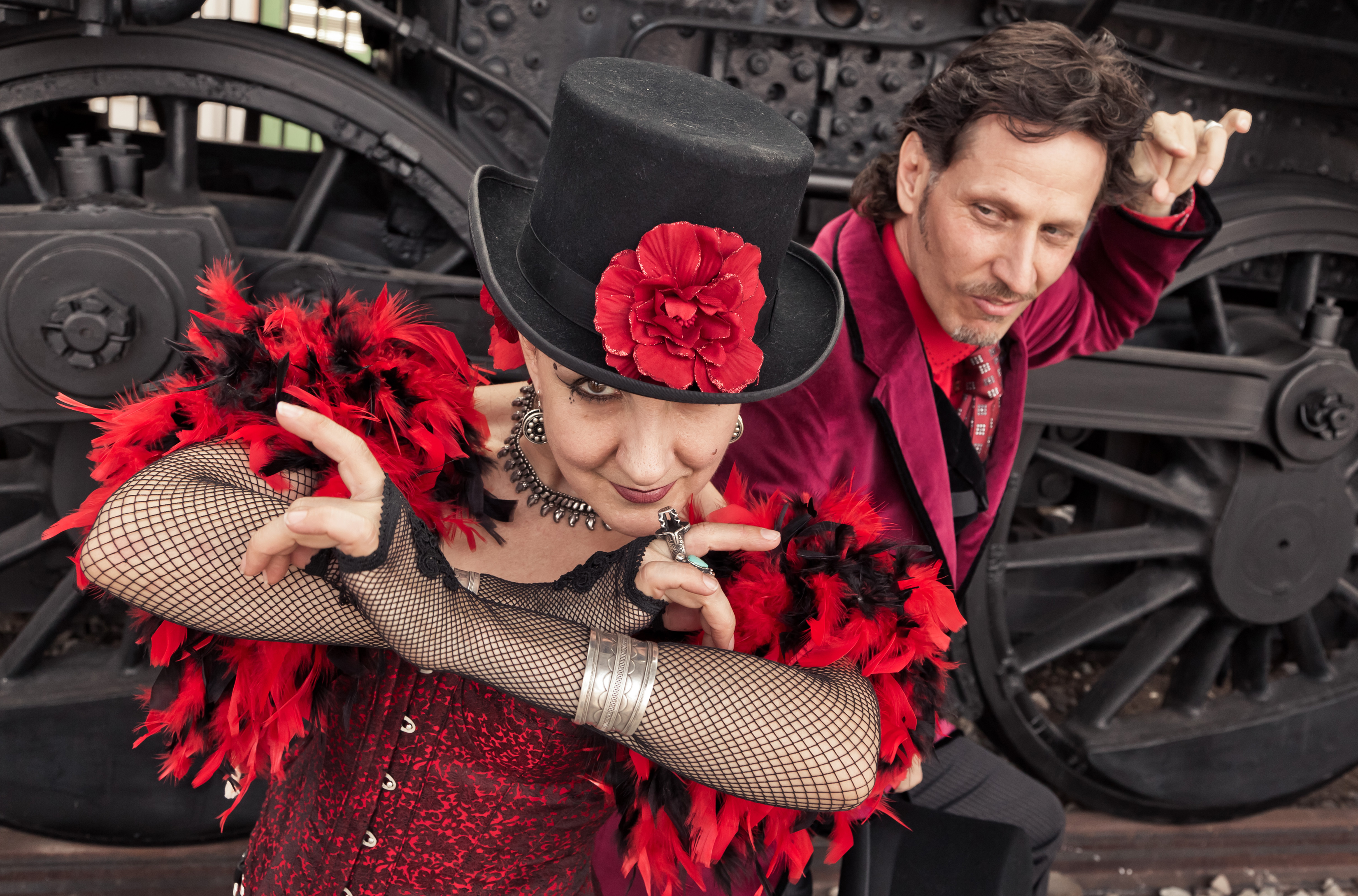 Performers from the vaudeville inspired Carnival of Illusion show (Photo: AZFOTO)

The Errl Cup: 710 Degree Cup

For those of us who reside in countries with relatively conservative attitudes to marijuana are inclined to raise an eyebrow when we hear of events such as the 710 Degree Cup. In the US, however, cannabis can now be legally purchased in numerous states, and in Arizona this progressive approach has given rise to The Errl Cup, an umbrella organisation that hosts cannabis awards and events throughout the year. One of the most popular is the free-to-enter 710 Degree Cup, featuring blind testing to help uncover clean, high quality, cannabis-based medicine.

LOCATION: American Royal Palace, Phoenix, AZ

MONTH: July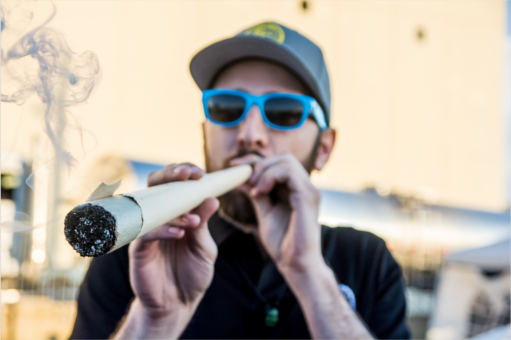 An Errl Cup contestant smoking it up (Photo: The Errl Cup)

Hell City Tattoo Festival

Hell City Tattoo Festival lands in Phoenix this August, bringing with it over 200 of the world's most celebrated inky artists. Events include tattoo competitions (including a Worst Tattoo category), an art gallery and tattoo theatre, painting and burlesque performances, educational seminars for healthy practice, live music and tattoo awards. There's also a handy play zone to keep the little ones entertained. A must for body-art fans and a great chance to meet artists you admire and get inspiration for your next stamp.

LOCATION: Arizona Biltmore Resort & Spa, Phoenix, AZ

MONTH: August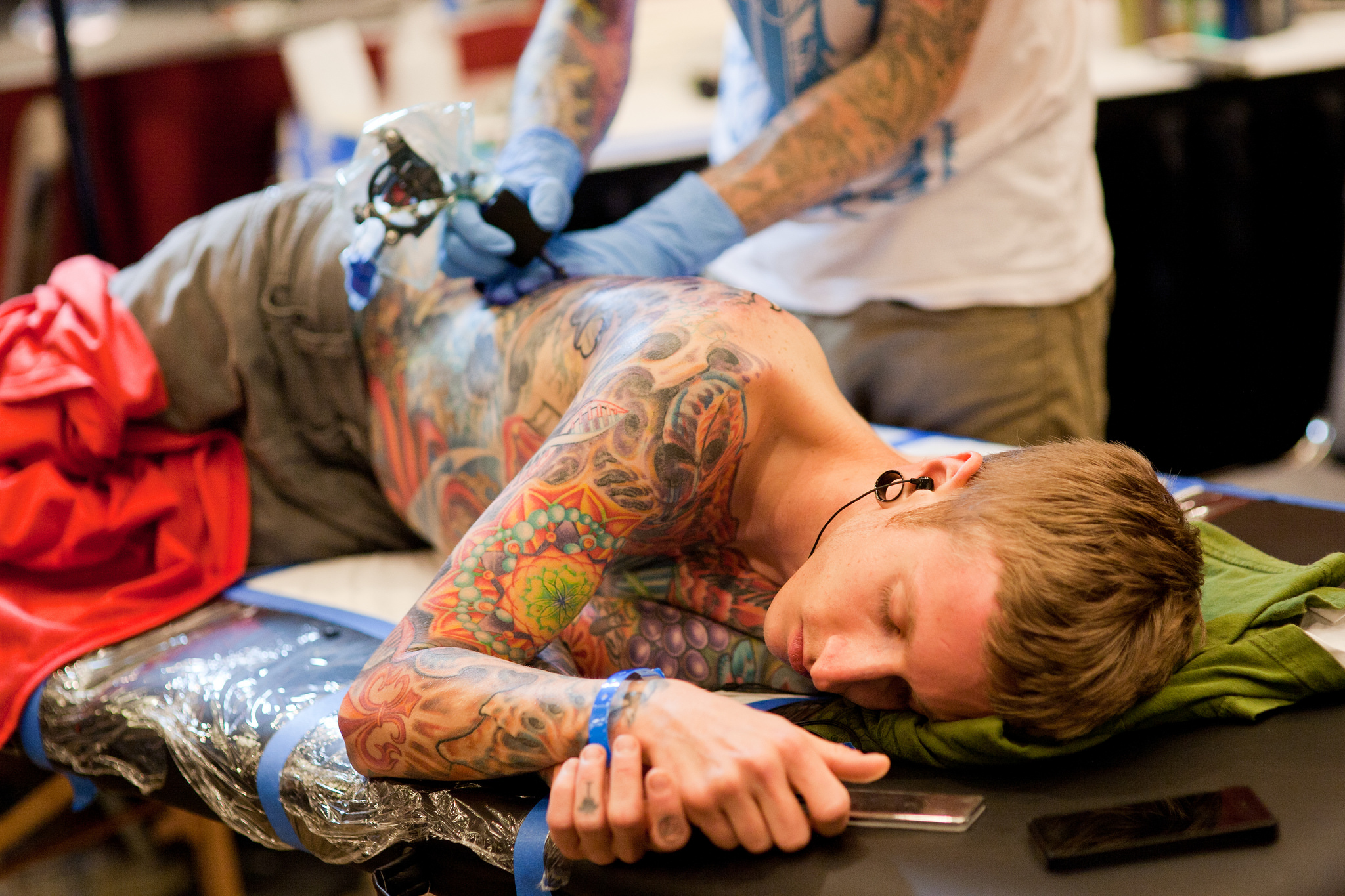 A festival-goer is daubed with an intricate design during Hell City Tattoo Festival (Photo: Alex Hall via Flickr)

Brazilian Day Arizona

The annual event known widely as "Brazilian Day" is a 1-day festival celebrating Brazil's Independence Day. Each year the event curates an open window to discover Brazilian culture from the past, present and future. The festival digs deep into the roots of the national culture through a variety of themes and genres including music, dance, performance, martial arts, film, art, costumes, food, drinks and plenty more. Part of the organisers' aim is to promote Brazilian culture as both entertainment and education while exploring traditional Brazilian customs and their many influences.

LOCATION: Scottsdale Center for the Performing Arts, Scottsdale, AZ

MONTH: September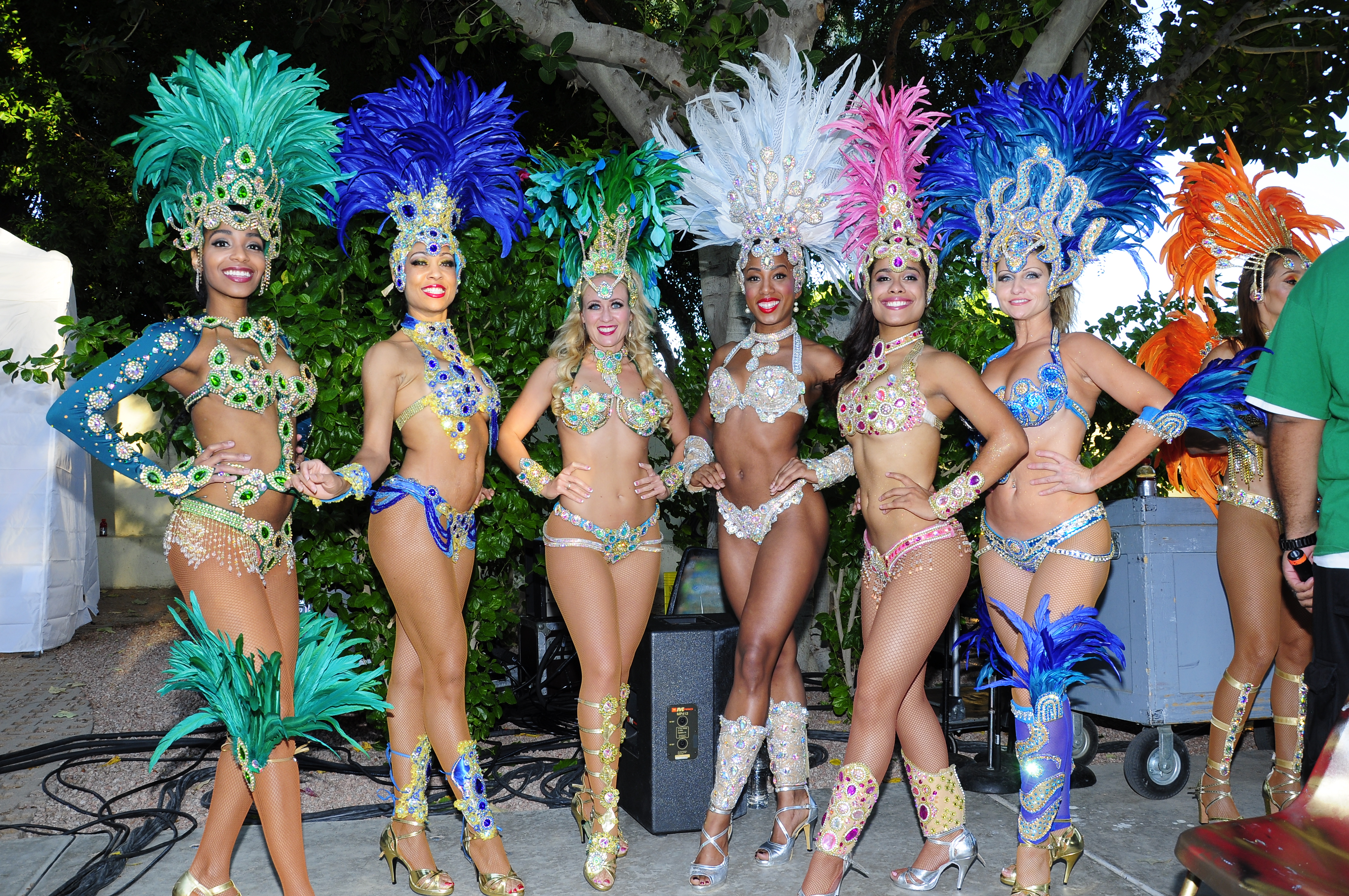 Extravagantly dressed performers at Brazilian Day Arizona (Photo: Juan Loza)

Phoenix Greek Festival

Known as Arizona's original and best Greek Festival, this 3-day event features a veritable smorgasbord of authentic Greek food, nationally award-winning Greek folk dance performances and live music. In fact, it's often been said that people come for the food but stay for the dancing. Some of the traditional Greek delicacies served up will include time-honoured favorites like gyros, calamari, spanakopita and roasted lamb, while, for the sweet-toothed, desserts will include mouth-watering Greek pastries like Baklava and Baklava Sundaes.

LOCATION: Holy Trinity Greek Orthodox Cathedral, Phoenix, AZ

MONTH: October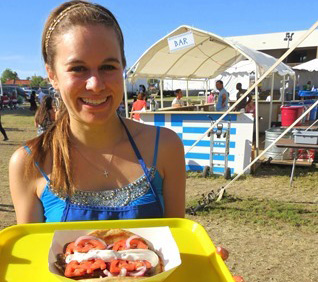 A smiling festival-goer poses with a traditional Greek dish (Photo: Phoenix Greek Festival)

Arizona Harvest Fest

November sees the searing desert heat that saturates Arizona for much of the year finally cool off – to the relief of everyone. It is also the time of year that marks the harvest season, when the fruits of the earth are reaped aplenty. Held in celebration of this bountiful occasion, the Arizona Harvest Fest offers a rich programme of activities, events and entertainment for all ages. On the programme this year there's a distinctly pumpkin-ey theme, including a pumpkin toss, a pumpkin pageant, and even pumpkin ales in the beer garden.

LOCATION: Dr. AJ Chandler Park, Downtown Chandler, AZ

MONTH: November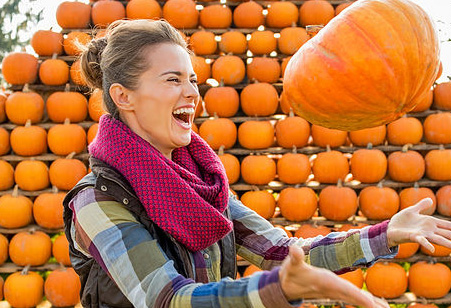 A gleeful woman appears unnerved as a pumpkin hangs precariously in mid-air at the Arizona Harvest Fest (Photo: Arizona Harvest Fest)